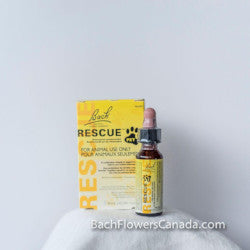 Rescue Pet - 10ml - alcohol free
---
Rescue Remedy Pet is an alcohol free variation of the original stress relieving formula Rescue Remedy. It can help to create a calming effect in any stressful situation, or when your pet needs help overcoming a variety of emotional or behavioral problems.

It can help with visits to the vet, fireworks, thunderstorms, loud noises, travelling (air and car) etc.

Rescue Remedy Pet contains the following five remedies.
• Rock Rose, for terror and panic
• Impatiens, addresses irritation and impatience
• Clematis, for inattentiveness and lack of interest
• Star of Bethlehem, for shock or trauma
• Cherry Plum, for a lack of self control

Directions:
• Put 4 drops into food, onto pet treats or in their water. The dosage is the same for any size of pet.
• If pets share water, the remedies won't have affects on other pets if they don't need them.
• There is no worry of over-dosing.
Active Ingredients: 5x dilution of Helianthemum nummularium HPUS, Clematis vitalba HPUS, Impatiens glandulifera HPUS, Prunus cerasifera HPUS, Ornithogalum umbellatum HPUS.

Inactive Ingredients: 80% Vegetable Glycerin, 20% water

Advisory information:
• Keep out of reach of children
• Keep away from eyes
• If symptoms persist, please consult a veterinarian


---
Share this Product
---
More from this collection
Liquid error (layout/theme line 405): Could not find asset snippets/spurit_uev-theme-snippet.liquid