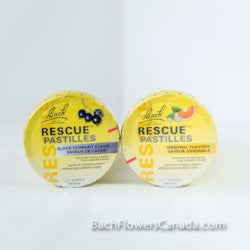 Rescue Pastille Delight Package
---
The Rescue Delight Package contains two flavours of Rescue Pastilles.
The pastilles are suitable for the whole family.  Simply take before, during, or after any stressful event (exam, flying, traveling, dental visit, public speaking, late for an appointment etc.) to help you to feel, calm, relaxed and ready to take on the World.
A great gift or treat yourself.
Orange Elderflower and BlackCurrant  Rescue Pastilles - For the relief of occasional stress.
Directions (Adult):
Chew one pastille as required. Alcohol and sugar free.
Active Ingredients:
5x dilution of Helianthemum nummularium HPUS, Clematis vitalba HPUS, Impatiens glandulifera HPUS, Prunus cerasifera HPUS, Ornithogalum umbellatum HPUS.
Inactive Ingredients:
Sugar substitute (sorbitol, isomalt), gelling agent (gum arabic), natural flavour (elderflower, orange), vegetable oil, glazing agent (vegetable oil, beeswax), sweetener (thaumatin, xylitol).
Advisory information:
Keep out of reach of children. If pregnant or breastfeeding, ask a health professional before use. Excessive consumption may induce mildly laxative effects. May contain traces of gluten. Store below 77 degrees F.
Please note: The pastilles are not suitable for animals as these pastilles contain xylitol which may be harmful/toxic to pets.
---
Share this Product
---
More from this collection
Liquid error (layout/theme line 405): Could not find asset snippets/spurit_uev-theme-snippet.liquid