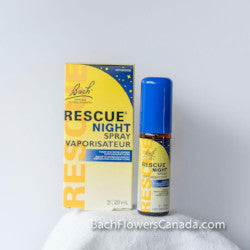 ---
Natural relief for sleeplessness caused by stress and repetitive thoughts. Helps to calm the mind.
Directions:
Bring spray nozzle up to mouth and apply 2 sprays onto the tongue prior to retiring. Additional sprays my be taken during the night as needed.
Active Ingredients:
5x (HPUS) dilution
Star of Bethlehem – Orithogalum umbellatum
Rock Rose – Helianthemum
Cherry Plum – Prunus cerasifera
Impatiens – Impatiens gladulifer7a
Clematis - Clematis vitalba
White Chestnut – Aesculus Hippocastanum
Inactive Ingredients:
27% Grape Based Alcohol as a preservative.
Advisory information:
Keep out or reach of children. If pregnant or breast-feeding, ask a health professional before use. Keep away from eyes. Stop use and ask a doctor if sleeplessness persists for more than two weeks. Insomnia can be a symptom of a serious underlying medical illness.
Additional information:

Rescue Night is non-narcotic, non-habit forming, and safe for the whole family. For other reasons that cause sleeplessness it may be worth considering using one or a combination of the other
38 Bach Flower Remedies
and additional information can be found on the
sleeplessness
page.
---
Share this Product
---
More from this collection
Liquid error (layout/theme line 405): Could not find asset snippets/spurit_uev-theme-snippet.liquid