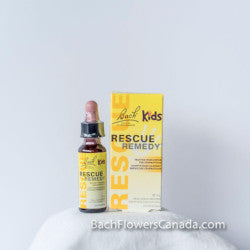 Kids Rescue™ Remedy Drops 10 ml - alcohol free
---
Try the new Kids Rescue Remedy an alcohol free version of the Original blend Rescue Remedy.
Life can be stressful for our children and Kids Rescue Remedy can help them cope with the ups and downs of everyday life when they are on the go.
Feeling nervous about going to school, after school activities, an upcoming exam, test, interview, public speaking? Simply take 4 drops directly into the mouth to restore calmness.
A useful addition to your first aid kit, keep it in your purse, car, or office drawer you never know when you are going to need it.
Kids Rescue Remedy is the natural alternative to manage everyday stress
Helps you to cope in balancing life's ups and downs
Take anytime as and when needed
Suitable for all the family
Directions (Age 1 to Adult):
Take 4 drops in a small glass of water. Repeat as necessary. Can also be taken by placing 4 drops directly on or under the tongue. Use as directed by a homeopathic practitioner.
Active Ingredients:
5x dilution of Helianthemum nummularium HPUS, Clematis vitalba HPUS, Impatiens glandulifera HPUS, Prunus cerasifera HPUS, Ornithogalum umbellatum HPUS.
Inactive Ingredients:
Glycerine and Water
Advisory information:
Keep out of reach of children. If pregnant or breast-feeding, ask a health professional before use.
---
Share this Product
---
More from this collection
Liquid error (layout/theme line 405): Could not find asset snippets/spurit_uev-theme-snippet.liquid